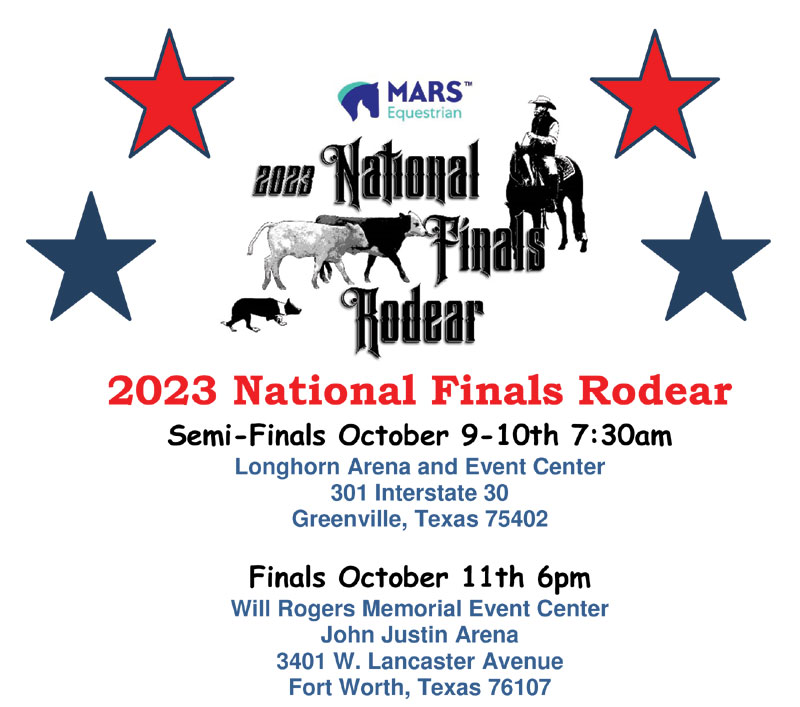 Click here to learn more about the addition of our 3D Lucky Dog Jackpot
What is a Rodear?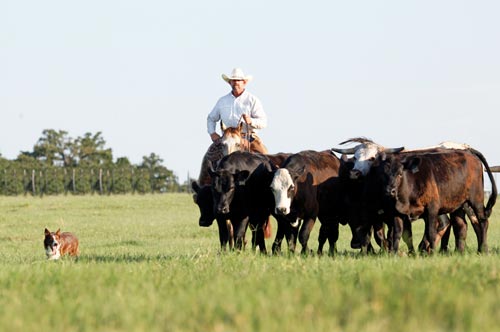 Rodear is a point and time event wherein the stock savvy and skill of the dog, rider and horse are put to the test. The competition centers around maneuvering a small group of cattle through a number of obstacles in a set amount of time.
The goal of the Rodear event is to revolutionize modern cow dog competition by most accurately simulating the way in which cow dogs are utilized in everyday cattle operations on working cattle ranches. And, since most cattle operations take care not to harass and "run the weight" off their cattle, the Rodear places a great deal of emphasis on the stockmanship of the handler and the quiet and controlled manner in which the dog maneuvers the cattle.
The event is unique from other cow dog competitions in that the majority of the obstacles require both the dog and horse/rider to negotiate. For this reason, use of the horse is not restricted in any way. With the handler on horseback, Rodear provides a great place for individuals to enjoy their good cow horses and work their good cow dogs through courses that either take place in an arena or cross country, or both! This concept of truly utilizing the horse has made the Rodear event attractive to the ranching and western performance horse industries.
This fast growing sport originated out west with the first major Rodear taking place in conjunction with a National Cutting Horse Association (NCHA) cutting in Fort Klamath, Oregon in 2005. Hosted by cattle-rancher and long-time cutting competition supporter, Ambrose McAuliffe, this original Fort Klamath Rodear gained momentum over the years and has drawn dogs and handlers from as far away as Australia and Canada. The champion of that first event took home a $15,000 check! Today, Rodears are gaining popularity across the United States, with clinics and competitions being held from California to Wyoming to New York and Texas.
The Rodear ultimately brings together the cow dog and the cow horse in a forum designed to capitalize on the stock sense and maneuverability shared by both. With minimal rules governing the competitions and great prize money, the main emphasis is on fun! For this reason, it's been no surprise that the Rodear is being increasingly embraced by stock dog owners, cattle ranchers, cutting and cow horse enthusiasts, as well as beginner, intermediate and advanced stock dog handlers.
Visit the Calendar page to see upcoming events.